Why ACC Business
ACC Business is an AT&T brand for customers who want more than just a service provider.
ACC Business is a customer-centric brand from AT&T that combines exceptional service with a flexible suite of networking, data, cloud and voice offerings. We have become one of the most successful communications providers by working exclusively with Solution Providers and delivering specialized solutions covering the entire marketplace.

Extraordinary Service Delivery – Solution Providers trust their customers to ACC Business because they know that together we will create and deliver the right solution. We do this by providing our Solution Providers a dedicated internal support team, enabling us to work together to assess the best solution for your business by understanding your current environment, strategy, budget, and technical needs.
We also provide live Tier 2 Technical Support, pre-sale, point-of-sale, provisioning, and post-sale support to meet the needs of customers and Solution Providers alike. Our Rochester, NY-based customer care professionals are easy to reach and available seven days a week to answer your questions live, and our 24/7 online account management support gives you the power to review orders, project milestones, and provisioning status.
The power of AT&T and the specialization of ACC: a winning combination.
The AT&T Global Network – AT&T offers one of the world's most powerful and advanced IP/Multiprotocol Label Switching (MPLS) networks. As the largest U.S. provider of fiber for business services, the AT&T network carries hundreds of petabytes of data traffic every day and industry-analyst Gartner Inc. named AT&T a leader in its 2019 Magic Quadrant for Network Services, Global for the 15th consecutive time. When you choose ACC Business, you're choosing to leverage the power and strength of AT&T and the collaborative, supportive engagement of ACC Business to support your business.
To learn more about why ACC Business click here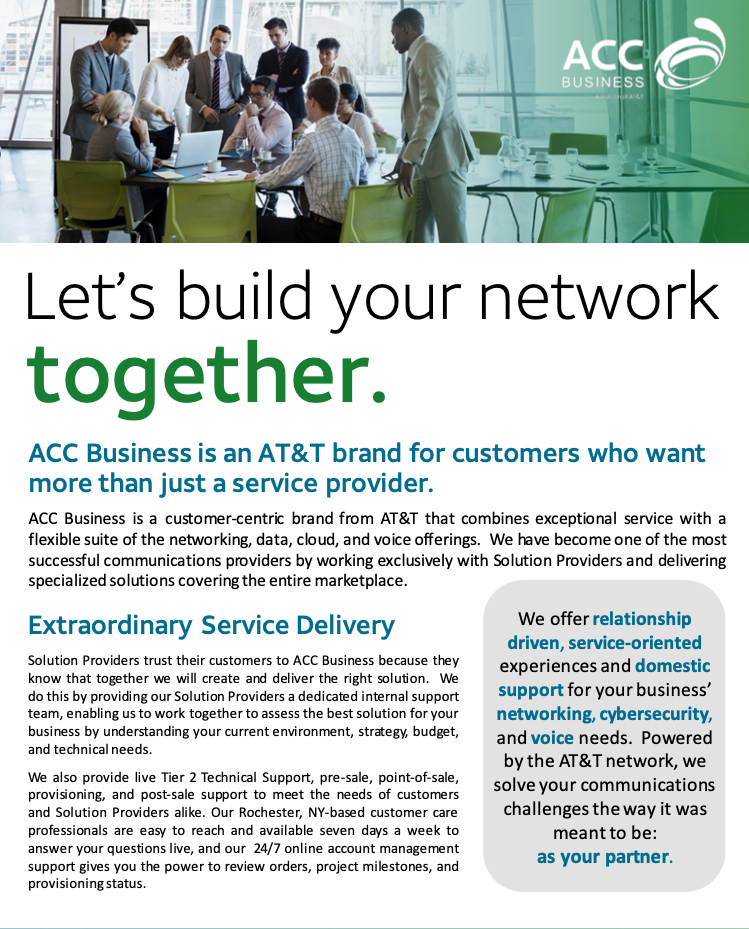 or contact us today.